Most people use VPN inside China to visit blocked websites outside of the country, like Google, Facebook, Twitter, etc. However, a few people who live away from China may want to use a VPN into China, or access china video sites such as unblock Youku (优酷), Toudou (土豆), QQ Video(QQ视频), iQiYi (爱奇艺)or other websites. We have tested some VPN with China servers and recommend some VPNs into China. They can help you get back behind the Great Firewall and access free content only available to mainland residents.
Why VPN into China, not out of it?
Well, usually there are two main reasons for this.
1. Watch Chinese videos
People in China can watch lots of movies/shows/dramas for free from video services (i.e. Youku, Tudou, CNTV, Iqiyi, Sohu TV, QQ Video, CNTV,PPTV) for free. However, many Chinese video sites are inaccessible outside of China, these video sites have implemented IP address-blocking, so their video contents are not available to users outside of Mainland China. People want to know how to watch Chinese movies outside China, for example, the United States,
Besides, many music sites also Netease Music, QQ Music, Baidu Music etc is only open free to mainland China IP, If you want to listen to the trending Chinese music for free, you will also need to bypass the IP address-blocking.
The solution is that you need to get a VPN with China IP servers to watch china TV and movies, which will make your computer and mobile look like it's in China.
2. Doing tests of websites
In addition to watching China videos, there are other needs to use a VPN into China. For example, a few web-developers need to test if their site is blocked in China, or check how fast their site can load in Mainland China. Because of this, they may also want to use VPN connect to China.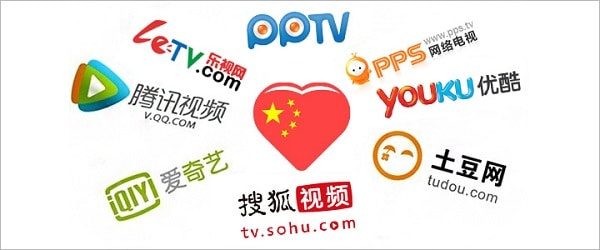 Things to know before using a VPN into China
1. Please note that Hong Kong, Taiwan and Macau IP addresses are banned from streaming China video sites. IP addresses from these three locations cannot enable you to watch China-only videos. You should only consider VPN providers with mainland China IP addresses if you want want to use a VPN back to China.
2. Many people are looking for free proxy and VPN to access China website. Well, there are free proxy and VPN out there, but many free services do not encrypt your data, resulting in your personal data leaks and being Implanted virus. Advise paid VPN provide high-speed servers and keep private user data safe, you will enjoy an excellent service with just a few bucks.
3. There is no need to worry about the legal issues. China does not have a law against downloading copyrighted materials and videos. All TV series, movies and shows are free and legal for you to watch via Chinese IP addresses. You can check our reviews of our VPN into China above and choose the best one that suits you.
Which VPN are the best to get into China?
A VPN with China IP address allows you bypass Geo-blocking and enjoy video and other services just like you are living in Mainland China. Yet, there are not many VPN services which provide mainland China servers. After some research and testing, we pick out top 6 best VPN into China.
VPN into China Comparison
VPN Brand
Malus VPN
IvacyVPN
PureVPN
Transocks
VPNArea
Rating
⭐️⭐️⭐️⭐️⭐️
⭐⭐⭐⭐⭐️
⭐⭐⭐
⭐⭐⭐
⭐️⭐️⭐️
Jurisdiction
China
Singapore
Hong Kong
China
Switzerland
Founding Year
2018
2007
2007
2017
2012
Server Count
50+
275+
2000+
Dozens
190+
China Servers
50+in China
Beijing
Shanghai
Beijing
Shanghai
Dozens
Beijing
Guangzhou
Work With
Chrome, iOS
Windows
Android
Android TV
iOS, Android
Windows,
Linux, Kodi
Xbox, Routers
PS4, Roku
Blackberry
Windows, Mac
iPhone, Linux
iPad, Android
Chrome, Firefox
Routers, Xbox
Android TV
Surface
iOS, Android
Windows, TV
Chrome
Edge plugin
Android, Mac
Windows,
iOS, Linux
Logs Bandwidth
Unlimited
Unlimited
Unlimited
Unlimited
Unlimited
Simultaneous
Connections
3
5
5
3
6
Monthly Costs
Monthly:$5.99/m
3month:$5.66/m
6month:$4.99/m
Yearly:$3.99/m
Monthly:$9.95/m
6months:$5.00/m
Yearly:$3.50/m
Monthly:$10.95/m
Yearly:$5.83/m
2-year:$3.33/m
Monthly:¥25/m
3months:¥23/m
6months:¥22/m
12months:¥21/m
Monthly:$9.90/m
Yearly:$4.92/m
3-year:$2.99/m
Payment Methods
Alipay, Wechat
PayPal
Alipay, PayPal
Credit Card
Alipay, PayPal
Credit Card
Alipay, PayPal
WeChat
Alipay, PayPal
Credit Card
Money Back Guarantee
30 days
30 days
31 days
NO
30 days
Support
Live Chat
Email, QQ
Live Chat
Email
Live Chat
Email
Live Chat
Live Chat
Email
Deals

PROS
Unlimited bandwidth
Designed for foreigners and overseas Chinese who want to use a VPN into China
Apps for iOS, Android, Mac, Windows PC
Up to 3 connections simultaneously
Dozens of Chinese servers to help access Chinese IP
24 hours live chat support
30 day money back guarantee
Malus is new cool VPN which is designed to help foreigners and overseas Chinese to access China servers to browse China websites. It is easy to set up and has good speed to watch video, listen to music and watch live show.
Malus provides dozens of smart servers to get connected to China IP and get around Geo-blocking to access China-only video contents. They often update the servers to make sure it works well. It is on of the best VPN to watch China shows.
As for its speed, it's usually very good with quite limited connection drops. Its speed can go very fast when downloading videos and is very smooth when browsing web pages. Users can use its VPN services on up to 3 devices at the same time including Windows, iOS and Android devices.
Its one month plan price is $5.99/month and 1 year plan $3.99/month, and it gives a 30-day money back guarantee, this gives users a quite long time to test their VPN service for free. Their customer support is quite good, you can always get quick response from their support staff. In all, Malus is quite a good VPN service to help you get into China.

PROS
Unlimited Server-Switching
1000+ Server in 50+ Countries
It has two server locations in China's Beijing and Shanghai
P2P File Sharing is allowed
5 Multi Logins
Fast speed
256-bit encryption
30 day money back guarantee
CONS
No free trial
Pricey if you purchase a 1-month plan
Ivacy is another VPN provider that can help you get into China. It provides 2 VPN servers in China, one is in Beijing and another one is in Shanghai.
Its service starts from one month plan with $9.95 per month, the one year plan price is as low as $3.50 per month. And if you register its 2 year plan, it is $2.25/month, which is a very good price. Ivacy provides a 30-day money guarantee, You can get full refund if you are not feel good for its service.

Ivacy has very good speed. I conducted a couple of speed tests and I can get very fast streaming speed when watch video sites like Youku and Tudou.
Ivacy is simple to install and use. Ivacy supports Windows, Mac, iOS, Android, Linux, routers, smart TVs and even your Xbox systems. Users can use its software on different devices with up to 5 simultaneously multiple logins.
All in all, Ivacy gives users unlimited bandwidth and provides P2P optimized servers, so tor-renters will like it very much. What's more, security and privacy are comparable to many top VPN providers. the service was very reliable, it's a solid VPN to choose.
#3.PureVPN (
Not Working Now

)

PROS
• Unlimited data transfer and speed
• Up to 5 devices simultaneously with a single account
• Apps for platforms of Windows, Mac, iOS, Android and Linux.
• Servers in 140+ countries and 12 servers in China
• Widest protocol support including (PPTP, L2TP/IPSec, SSTP, OpenVPN & IKEv2)
• Hong Kong based company
• 256-bit encryption
• P2P is allowed and 24×7 live chat support
• No logs
• 31-Days Money-Back Guarantee
CONS
• No free trial
We sent a inquiry to support of PureVPN on April 13, 2020. Saying at present their China servers are not available now. Their answers are as follows:
We apologize for the inconvenience, however, be advised that we are currently facing service interruption on our China based servers due to ever changing geo-restriction policies.
As you can imagine, we have the highest sense of urgency to get the China servers back online for our valued customers, therefore, please confirm your email address and we will get back to you via email as soon as the service is resumed.
Thank you for your patience and kind considerations.
PureVPN is among the most popular VPN services in the world, it has more than 3 million users worldwide. Though at present their official site is blocked in Mainland China, people who lives beyond China can use its service to get into China without any problems.
PureVPN owns 2000+ servers in 140+ countries. among which 12 servers are located in China, 6 servers in Beijing and 6 servers in Shanghai.

It is worth noting that PureVPN allows P2P/Bittorrent, you can watch or even download streaming videos with their software, while this function is usually not available from many other VPN service. Besides, PureVPN provides unlimited data transfer, no matter what purposes – download, browse, stream or share, you can do whatever you want without any bandwidth or data limit.
PureVPN also provides a good price among all VPN providers. Its rate starts from official website $3.33/month for one year package, click 76% off deal link to get our discount price $2.66/month. And they have a lot of promotions on the site. Besides, it promises a 31-Days Money-back Guarantee, you can use it for 31 days for free without any risk. PureVPN allows 5 multi logins with one single account, it means you can use it on your computer, tablet or mobile at the same time, or you can share your account with your family members or friends.
Though its speed is not the best among all our testing VPN, but it's enough to enjoy Youku, Tudou and the like for streaming HD quality videos. Plus its very good price, PureVPN is the best option for those who are looking for VPN into China.
Notes
Do not use "OpenVPN" protocol, which is strictly monitored by China government and can not get through at all. Choose the IP address that supports any of PPTP, L2TP, SSTP, IKEv2 protocols. If you have problem on connection, you change among these protocols.
If you can not find China IP in the server list of the Purevpn software, it may due to the heavy VPN blocks from China, so PureVPN hides it in the server list. Then you can log in to its official website, go to "Server Locations" page to find Chinese IP, copy one of them and switch to use the"Dedicated IP"mode, then connect China VPN server.
If you still can not get connected, contact their live chat support to get fixed IP for connection.

Transocks is a popular app among overseas Chinese. It can help you effectively bypass the GFW. It supports devices of iOS, Android, Mac, Windows, TV box, and the Chrome extension. It is easy to install and get connected with just one-click, then you can enjoy Chinese mainland network freely.
Transocks VPN is specially designed for overseas Chinese and foreigners who want to access Chinese websites and applications. Please note that this VPN can only connect with China IP to Browse iQiyi, Youku, etc. No servers and ip from other countries.
It supports smart tunneling, when watching Chinese TV shows on China apps and Chinese websites, it will use the VPN, while for local networks such as Google, YouTube, etc. you will still automatically use your local networks.
It has 4.2 points of 5 points on Google Play and 4.8 points of 5 points on the Apple Store.
PROS:
Supports Android, iOS, Windows, Mac, Android TV, Chrome and Edge browser plug-ins.
No need to register, easy to use. (Can be used on three devices after registration).
Exclusive bandwidth, stable and high speed connection.
It has default smart mode and tunneling function.
Support domestic mainstream entertainment sites: Youku Tudou, bilibili, iQiyi, Tencent Video, CCTV5, Sina Live, PPTV, QQ Music, NetEase Cloud Music, Xiami Music, Kugou Music, Baidu Music, etc.
There are advertisements for the free version. To remove the advertisements, you need to purchase a paid version.
Protect your privacy.
Support WeChat, Alipay, PayPal payment.
CONS:
Recently many users report that the connection is unstable and the speed is not fast enough.
Some domestic websites and applications cannot be unlocked.
Price
1 month plan – 25 Yuan/30 day
3 months plan -23.33 Yuan/30 day
6 months plan – 22.5 Yuan/30 day
12 months plan – 21.67 Yuan/30 day

PROS
• Unlimited Bandwidth
• Unblock Netflix US and iPlayer
• 200 servers in 70 Countries including 2 China servers
• Connect up to 6 devices at the same time
• Encryption with 256 bit keys
• Apps for Windows, Mac, Android and iOS
• P2P Allowed
•30-day money-back guarantee
• FREE 24/7/365 support
CONS
•No kill-switch on iOS
VPNArea is Bulgarian VPN provider hosted in Switzerland. It is one of the most famous online privacy providers. It does a good job of hiding your IP address from snooping governments, ISP's, hackers and your boss.
VPNArea has servers in 70 Countries around the globe including 2 VPN servers in China. It can allows you to bypass geo-blocking and visit Chinese websites like in China.

It has apps for all major platforms (Windows, Mac, Android and iOS) and it allows up to 6 simultaneous connections, so you can share it with your family or friends with just one account. It has 24/7 live chat support
VPNArea provides excellent VPN service at $9.90 per month, for one year package $4.92/month, and three year package $2.99/month, which is really good deal considering service provided.
VPNArea is definitely worth checking out. It provides 30 day money back guarantee., so you can see how well it works with this policy and if you feel not good with it, you can get your money refunded. It is risk-free.
How to Get a China IP Address with VPN
It is easy, just follow these 5 steps:
1. Subscribe to a VPN service mentioned above.
2. Download and install its software either on computer or mobile devices.
3. Run it and select a server from Mainland China to access with Chinese IP address.
4. Open a browser and navigate to Chinese website, you will be able to access China-only contents such as Youku or Tudou now.
5. Search for the English or Chinese name of the the show, you will find the the list of episodes.
Conclusion
The main focus of the article is to help overseas Chinese or foreigners who want to use VPN to get into China, to access contents only available in China. Malus is our pick of the best VPN into China. It has quality China IP addresses which offer reliable and high-speed connections. Besides, it can help you watch China videos easily. And more importantly, it is very cheap and affordable.
If you want to check our Chinese version page about VPN into China, please go to: 翻墙到大陆VPN推荐.