How about Malus? Is it easy to use Malus VPN to access China websites and app? Malus is a professional VPN that help overseas Chinese and those who want to unblock China websites, video and app.
Malus VPN is mainly designed for overseas Chinese and those who are interested in China from Europe, the United States, Canada, Australia, New Zealand, Japan, Hong Kong, Macau, Taiwan, Singapore, and Southeast Asia.
At present Malus provides a free trial version as well as a paid VIP version, the paid version has dedicated servers to China with faster speed. It is the best VPN for those who stay outside China and want to get an China IP to access Chinese content.
About Malus

Malus official website: GetMalus.com
Malus is a VPN provider who just provides VPN back to China. It is a VPN software specially designed for overseas Chinese and overseas Chinese students. It unblock geographical restrictions and has dozens of routes to China. It can help users to access all domestic websites and app via Chinese IP. It is easy to use, has fast speed, allow you to watch dramas, listen to music and watch live broadcasts. Though it has not been operating for a long time, it has more than 1 million users worldwide.
Features:
One-click intelligent acceleration
Global intelligent server, fast and stable
Support various platforms: iPhone, Android, Windows, macOS, Android TV, Chrome extension and so on.
Smarty acceleration
HD streaming
No ads
One VIP account
30-day money-back
Unlock the following websites and apps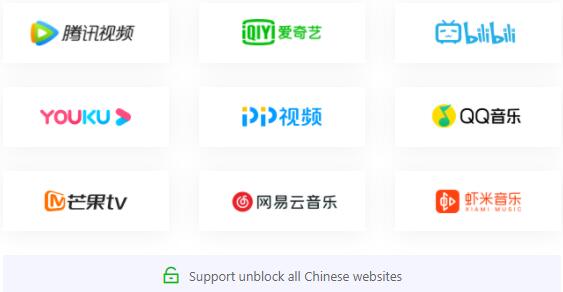 Video Sites and Apps: Unlock video sites of Youku, Bilibili, iQiyi, Tencent Video, Tudou, Acfun, and NetEase Open Classes.
Music App: QQ Music, NetEase Cloud Music, Xiami Music, Kugou Music, Kuwo Music.
Live Broadcast: MGTV, PPTV, PP Sports.
Play Online Games: HOK, Game for peace, LoL, WoW
Unlock other domestic mainland China websites and services.
Smart Mode
Malus does not provide users a list of servers, instead it automatically select the most fast and stable China servers for users. The advantage of this is to prevent a large number of users from choosing the same China server and IP, which may cause congestion of some servers.
Malus's smart mode will only speed up requests from domestic China websites and apps, while for outside China sites such as Twitter, Google, it will allow you directly visit them not via the software. Of course it is impossible for Malus to identify all sites from China. If you want to visit all Chinese sites via the software, you can choose the Global Mode, this way you will visit all sites via the software, it will speed up all sites from China, however, please note that, you can not visit blocked sites by China such as Google, Youtube, Twitter.
Supporting Devices

Malus supports a very complete range of devices including: iOS, Android , macOS, Windows, Chrome Extension, Android TV.
Safety
Many people ask is it Malus VPN safe? In fact, there is no absolutely secure VPN. The main operating body of Malus VPN is Shanghai Xunmao Network Technology Co., Ltd. This company holds an official telecommunications business license B1-20195421, so, its security is guaranteed. However, because it is a mainland China company, be careful not to deal with sensitive information when use the VPN.
Malus Price
Malus currently provides 4 basic price plans, which supports USD and RMB currencies.
You can pay by Wechat, Alipay and Paypal. The refund policy is different depending on different plan. The 1 year plan supports 30 day money back guarantee. The one month package does not support refund.
Malus has two versions VIP:
Advance VIP: for streaming and webpage

30-day plan is CNY42/month, first month price CNY9.9
90-day pan is CNY32/month
180-day plan is CNY29.33/month
360-day plan is CNY24/month
Game VIPAdvance VIP: Boost gaming, live broadcasting, streaming

30-day plan is CNY72/month, first month price CNY19.9
90-day pan is CNY56/month
180-day plan is CNY49.33/month
360-day plan is CNY40/month
Malus Disadvantages
Malus provides users with a free trial version, I tried it and found the connection was not stable and the speed was not good. Malus said on its official website that the free version server is congested and speed is not guaranteed.
The paid version is very fast, even when watching HD videos, there is no delay. I know many people mainly use VPN to watch dramas or listen to songs. If the speed is slow, it will affect user's experience. So if you want to have a stable connection to Mainland China, you'd better to choose the paid version.
Live Chat Support
If you have any questions, please feel free to contact customer service, 24-hour online, 1-on-1 online customer service, You can contact customer service via WeChat, Weibo, QQ, Facebook, Twitter, and other ways.
Customer Reviews
It has NO ads, currently has more than 1 million customers, and has received 5 stars on Google Play .
Conclusion
Malus can unlock China regional restrictions with just one click. You can watch restricted videos on iQiyi, Youku, Tencent, Bilibili and other websites for free when you are overseas. The paid version speed is fast and their reputation is good. It is one of the best VPN to take you back to China.