PureVPN began as a VPN experiment with the GZ Systems of Hong Kong way back in 2006 has grown to become one of the largest VPN networks in the world today with many servers spread over many countries. By the year 2021, they had already expanded to servers in 96 locations. However, if you are a VPN end user like me, you will not be bothered about their expansion and progress. What matters to you is whether they can do what they promise to do. The answer is yes. Today, as you will see in this PureVPN review, they have more than 6500 servers spread across different locations in more than 140 countries. This means that wherever you are in the world, you will access restricted content anonymously because they most likely have a server, if not several, there. In addition, they do offer a free application for the Android, Windows, Mac and iOS platforms.
Prices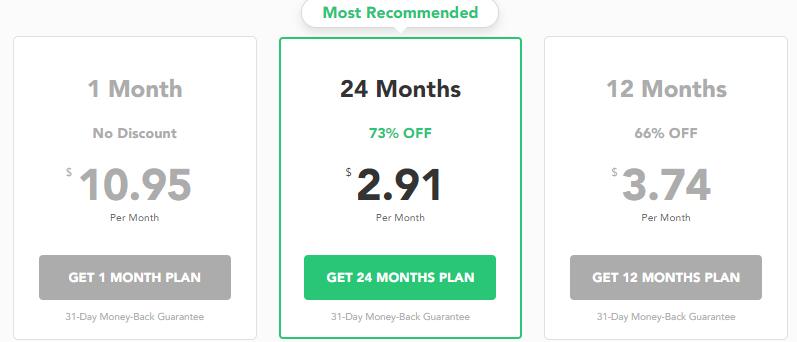 Do they have a free trial? No, they do not and just like any other user, I feel that they should at least extend a hand here. However, as you will see in the PureVPN price settings, they do make up for that in the price and package options that they bring their users. Just as it is with other VPN providers in the market, these people bring you 3 packages. In the first one, you can subscribe to the monthly package at the price of $10.95 per month, the 2 year package at the price of $2.91 per month. Surely, it does not get as cheap as that elsewhere, does it?
Is the process of buying hard? In just three simple steps, you will buy your package and start using it. To start, just choose the package that you want and then click add-ons. Then create your account, choose a strong password but one you will remember easily. If you are an existing user, just enter your login credentials. You will not be taken to the payment page to choose your method of payment and just like that, you are done.
Speed and performance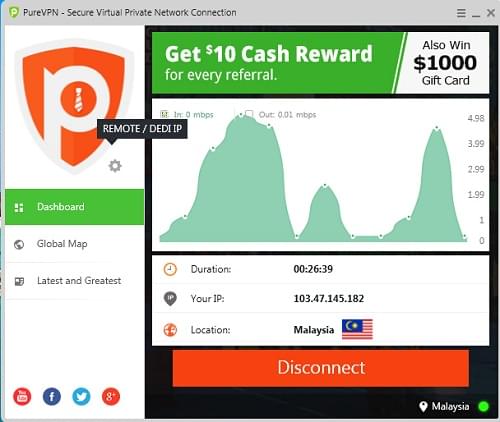 To be honest, I was not disappointed with the performance and the PureVPN speed. With more than 6500 servers, my expectations were high and they were met. For example, we clocked a maximum download speed of 21.4 Mbps in New York City. The upload speeds were 14.32 Mbps. We watched YouTube videos uninterrupted and for one moment, we almost forgot that we were connected to a VPN network because the speed of the YouTube video when connected to VPN and without was just about the same. Tor-renting was fast, as we downloaded HD videos fast. When I checked the official PureVPN website, I found information that when you use the Mac, android or iOS app, you will be connected to the fastest server automatically. I did not get to try that, but I will.
Security and Privacy
When you have logged in to your PureVPN account, you will be prompted to do a few things. You can be sure that you are protected. You will get many options like unblock or stream. Just choose what you want to do and you will be good to go. Once you have selected what you want, you will get a bar where you will choose a country and a server in that country. That means for example, that if you are in a country like China where there is censorship and you would like to watch something from Netflix, you can choose a server in that country for better speed. And then there are a few protocols to choose from. For example, you can choose to use the Open VPN, which I must say was not to be seen anywhere in the drop down menu of protocols. However, there is no harm in checking again as this one is the most secure and most popular protocol. However, PureVPN security is also assured through other protocols like TCP, PPTP, L2TP/IPSec, UDP, IKEv2 and SSTP.
Using reinforced encryption and 256-bit AES security, users are assured of protection whenever they are surfing online and accessing material that is restricted in their geographic location. All the devices that you will be using to access the content are protected from privacy breaches. All data is encrypted and kept safe from all types of breaches. Even your public Wi-Fi connection is secured immediately so that you are kept safe from hackers and ISP providers.
Customer Service
You will access 24/7 customer support through instant chat throughout the year. By instant chat, we mean just that; it is instant. The customer support staff is also very knowledgeable on VPN matters.
Pros:
You can login to the network using up to 10 devices without hampering the performance
256-bit data encryption to keep your data safe
Protects your emails and instant chat messages too
Allows you to connect for VoIP services if they are restricted in your country
Have over 6500 servers in more than 140 countries for faster connection
Easy to set up
Affordable packages for everyone
Does not keep logs
Has affiliate programs
Free VPN app for Android, Mac and iOS
Unlimited bandwidth and you get to share P2P files
31 day money back guarantee
Cons:
Does not offer free trial
Conclusion
Certainly, there are limitations, but the benefits are more than that. Thus, we can confidently advise you to choose this VPN. The wide range of features that users will enjoy from PureVPN makes one confident that they will get more than enough value for their money. You will not be disappointed when you use this service and the good thing is that you can connect with multiple devices, up to 5.