Buffered VPN, as its name suggests is the virtual private network that you need to subscribe to if you need to access stuff on the internet without leaving your digital footprints in the open for anyone to read. Since its establishment a few years ago, this VPN has excelled in the protection of the anonymity of its users. However, if you are looking for a VPN, you know very well that you do not want to buy one blindly and that is why you are reading this Buffered VPN review. Why should you use it? With instant set up and a 30-day money back guarantee, a decent connection speed and the ability to run up to five connections at the same time, well, what more could a person ask for when they are looking for a private connection to download that torrent file?
There is no free trial, but …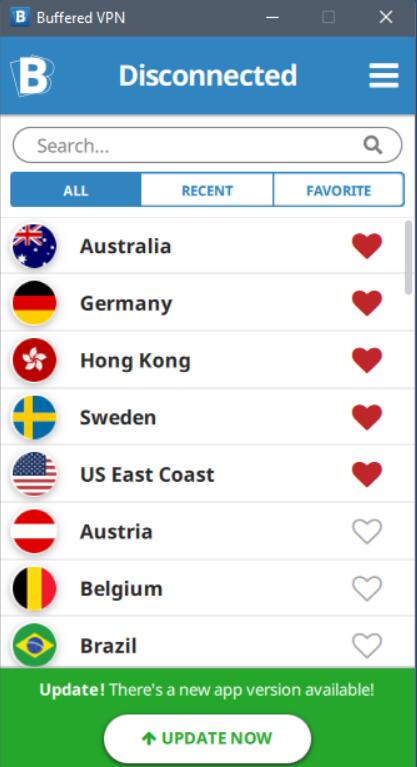 Buffered VPN does not offer users a free trial as is common with other VPN providers, but that have something that is even better than that. When you buy this product, you will pay the full Buffered VPN price, but tell you what? You will get your money back if you find that the VPN is not usable and you decide that you will not be using it in the long-term, you can just request for your money back, that is, within the first thirty days of buying it. However, note that you should not have used it for more than 100 times, not more than 10GB bandwidth or for not more than 10 hours of usage sessions. That way, you will get your full money back and then you can go on and look for another VPN service. How good is that?
There are three types of pricing packages for the Buffered VPN price. This is not the cheapest VPN in the market, but then if you will get more than enough value for it, it is good. If you subscribe for one month, you will pay $12.99. If you go for the half-year plan, you will pay $9.99 per month and if you get the full annual plan, you will pay $8.25 per month. You could also visit the Buffered official website to see whether there are any offers from time to time.
Buffered speed
The first thing that you will notice when you start the connections is that the Buffered VPN speed is stable. For example, when you try to download a 1080P video, it will download without any hiccups. You can also catch YouTube videos without any buffering. You will enjoy a smooth experience with the connection even when you switch on the five connections to run simultaneously from any part of the world. This is something that we find very impressive because many other VPN providers just offer two simultaneous connections. With many VPN users having to use more than three devices at the same time – laptop, tablet and mobile phone, this is the kind of connection to use for all these devices at the same time.
Buffered VPN security is further boosted by the presence of their servers in 31 countries. It has servers in two locations in the United States and in the UK, while the others are scattered across Israel, Australia, Scandinavia, South Korea, Germany, Poland and France among others. They keep increasing the number of their servers and so users are assured of no downtimes as they connect to their favourite spots on the internet.
Security and privacy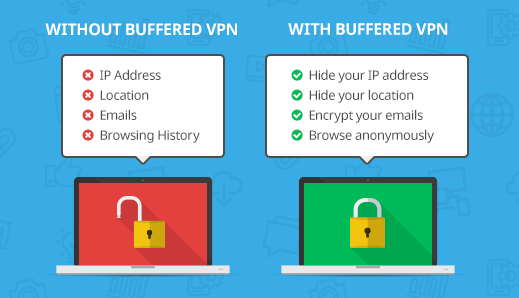 Buffer VPN security is tight with the connections secured with 128-bit AES SSL Algorithm encryption. However, we are aware that there are other VPN connections out there that offer a 256-bit SSL encryption, but then, the lighter 128-bit makes connection to the internet much faster.
To increase the anonymity of the users online, Buffered uses shared IP addresses that are changed randomly. Since many internet users use these, it can be hard to track you through them as these users will access the internet through different servers. In addition, we already established that the DNS server leak protection works and therefore there is no fear of details leaking out when you use Buffer VPN.
Buffered VPN  has a kill switch meaning that if the VPN connection drops, then the internet traffic will continue to be routed through the regular ISP.  It can help you prevent unprotected access to the internet.
Customer support
There are no telephone numbers to call. Buffered customer support uses a ticketing system. However, even this is not as fast as you would like it to be and to be served faster, you would have to file one during the Hungarian office hours, since Buffered is headquartered in Hungary. However, when we tried accessing customer service, we got very good answers and our problems were solved.
Even before you can file a ticket, you will most likely find the answers you need on the FAQ page. Buffered has tried to anticipate as many questions as possible and answered them there. In addition, there are complete instructions for setting up your connection.
If you want to make the problem solved quickly, you can use their live chat service. They reply fast and will help you find the best department to help you.
Pros
Over 31 servers in different countries
Easy to set up and connect
Light 128-bit encryption ensures faster connection to the internet
Allows five simultaneous connections
High speed
Money back guarantee of 30 days
Does not keep logs
Kill swith
Live chat surrport
Cons
It is a bit pricey as compared to many peers in the market
Conclusion
Well, from our short span of usage, we can confidently say that although the Buffer VPN is a bit costlier than others, it offers some great features. It is not that bad and the others are not that good. The bestselling feature for this VPN is the 5 simultaneous connections. It is reliable, you can buy it without hesitation.