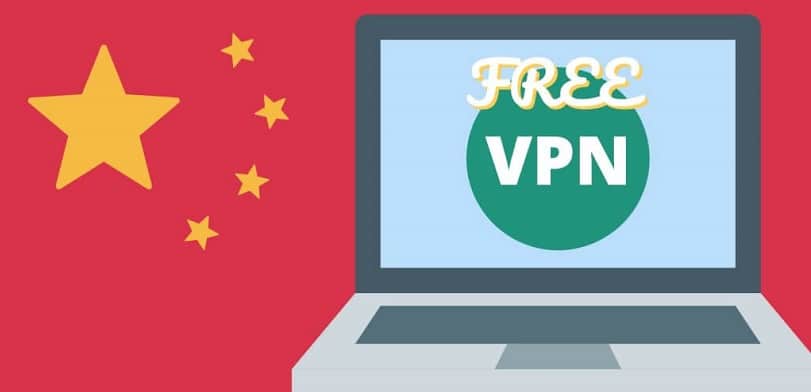 Everyone knows what VPN is: yes, a tool to bypass the censorship! VPNs are divided into paid VPN and free VPN. Among them, paid VPNs are more stable and easier to use, but free VPNs have one of the biggest advantages: Free! Many people are looking for the best free VPN. Here are some free VPNs that are easy to use in China.
Before recommending free VPN in China, it is necessary to popularize some knowledge about free VPN.
Why is a VPN free?
Everyone has heard the word: "There is no free lunch in the world." As far as VPN is concerned, the provision of VPN services requires high costs: it costs money to set up and maintain VPN servers, and it also need to cover VPN users' traffic. So why do they provide a free VPN? There are probably several reasons for the existence of free VPNs:
1. Some free VPNs make money by advertising
There are many free VPN services that make money by advertising. Although people use VPN for free, they are often forced to see various advertisements when using it. If you are attracted by these ads and click on it, then the free VPN service provider will make a profit.
2. Some free VPNs make money by promoting paid VPNs
Many VPN services provide both free and paid VPNs, but their main purpose of providing free VPNs is to attract users to become their paid VPN users. Therefore, although many free VPNs are available, they have many restrictions: such as speed limit, traffic limit and so on. When users reach these limits, the VPN service provider will recommend users to purchase the paid service. So to say, these free VPNs are just ads for paid VPNs.
3. Some free VPNs don't make money, but they use it for experiment or to promote other software.
In order to test their own VPN software, some institutes or software companies provide free VPN. By analyzing the data from free VPN users, they can discover problems and improve their software. While some companies' main products are not VPNs, but in order to attract more users, they will provide a free VPN function on their software. Although some users are coming for free VPN, they may eventually become the main software users.
4. Some free VPNs make benefit from bad methods.
Many malicious software are disguised as VPNs. After users download and use these malwares, they may steal users 'private or personal information, and even inject viruses. The hackers behind these "free VPN" then make profit by selling users' private information or spreading viruses.
How to identify and choose a free VPN?
If you insist on using a free VPN, then you must choose a reliable, secure, and good-performance free VPN.
Generally speaking, free VPNs from companies with good reputation will be more secure. Compared to unreliable free VPNs found through BBS, forums, and spam mail, free VPN discovered through reliable search engines (such as Google) are more likely to be reliable. It turns out that even the free VPNs found in many mobile App Stores may not be reliable.
In addition, if the company behind this free VPN also provides paid VPN, then the reliability of this free VPN may be relatively high, because you can at least know that the reason for free VPN is to promote the paid version instead of malicious software.
In addition, recommend to use free VPN services from companies outside China instead of that from Chinese providers. This is because China has recently banned technology companies from providing VPN services without authorization. These domestic free VPNs are likely to be blocked at any time. And even worse if these Chinese VPN providers are forced to pass your personal information to the authority it will be a nightmare for users.
We have tested some paid VPN services that work in mainland China. You can visit our VPN recommendation page to select one VPN, Or choose ExpressVPN directly. This is the paid VPN I am currently using, and it is also the most stable and fastest VPN in China. It has servers in Hong Kong, Taiwan, Japan, the United States and other places. ExpressVPN is the best VPN for China in terms of speed, reliability and security, with unlimited bandwidth and unlimited traffic. ExpressVPN supports Windows PC, Android and Apple iOS phones. One account can connect 5 devices at the same time. It also offers a 30-day money-back guarantee, which means you can have a 30-day free trial, and it is 100% refunded without hassle. It's equivalent to using one month of paid VPN service for free. You can click here and enjoy a 65% discount here!
If you still want to use a free VPN, you may wish to choose one from the list below. These VPNs have been tested in China in 2020 and can be used without compromising your privacy and security. Because the websites of most VPN providers are blocked, they are not accessible in mainland China. So I suggest downloading and installing the software on your phone and computer before coming to China. In addition, we recommend using two (or more) VPNs in case you cannot connect one and then you can enable another VPN.
Trustworthy Free China VPN:
I have said so many bad things about free VPNs, the ultimate goal is to make everyone improve the safety awareness to avoid being fooled. In fact, there are still some free VPNs that are worth of use. Here are a few of them:
Pros
Good free option for up to 10GB/month
Support all major systems
Downloading torrents is allowed
Works with U.S. Netflix
No logs
Great encryption
Kill switch fucntion
Easy to install and use
30-day money-back guarantee
Cons
No dedicated IPs
Not that many servers
PrivadoVPN was founded in 2019. This new VPN player uses the strongest encryption and provides a strict no-log policy.
With one PrivadoVPN account you can use up to ten devices at the same time.
We especially liked PrivadoVPN's free version. Compared to other free VPN, PrivadoVPN gives users a lot of options. its free version has 10 gigabyte of data each month and can access to 12 servers.
PrivadoVPN works in China, and we can connect to around 50% of its servers. The speed is very good even for 4k movie streaming.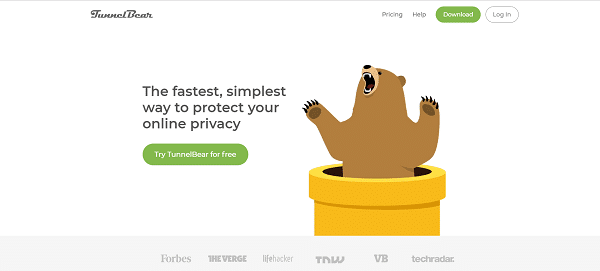 Pros
Supports OpenVPN, IPSec / IKEv2 encryption protocols.
Up to 5 devices can be connected at the same time.
Servers in 20 countries.
Unlimited server changes.
Supports Windows, Mac, Android and iOS platforms.
500Mb free trial per month.
Provide live chat support
Cons
Not too fast
Does not support Netflix
Router is not supported
TunnelBear is without a doubt one of the best free VPNs for users in China. This is a secure VPN with a clear privacy policy and will not place ads or malware on your device.
TunnelBear gives you 500MB for free every month. Although this VPN offers a free version, it does not compromise your privacy or security.
Just like most free VPNs. Its application is very easy to get installed and set up. However, it is not as powerful as other VPNs, for example, Tunnel Bear will not let you watch Netflix.
As it is provided for free, its connection speed is not very good. In addition, TunnelBear has not provided the use of OpenVPN on iPhone devices, which is the protocol that usually runs in China and is more stable and faster.
Currently TunnelBear provides 3 types of plans:
Free VPN: 500 Mb of data per month for free.
Monthly package: $ 9.99 per month.
Annual package: $ 49.99/year ($ ​​4.17 per month).
You can choose the free plan and enjoy 500Mb of free data. But keep in mind that if you don't want to continue using it, you must cancel your subscription before the end of a month or else you may be automatically charged for renewal.
For those who occasionally need to use a VPN, such as sending WhatsApp messages, Tunnel Bear is a good choice because you don't need fast speed and 500MB a month should be enough. If you need to send and receive photos and watch videos frequently, then consider a paid VPN.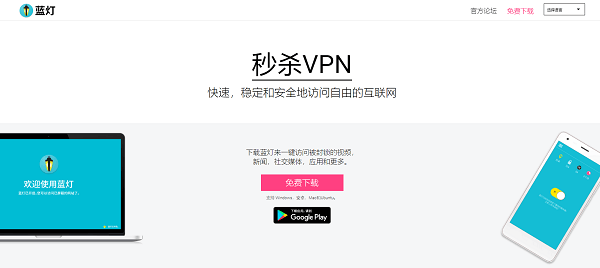 Pros
500MB free data per month
Many proxy server options
Easy to set up and one click to start it.
Data transmission encryption
Supports Windows, Android, Mac and Ubuntu.
Support AliPay payment
Cons
Streaming video sites such as Netflix Hulu and HBO are not supported.
Collect personal data.
Lantern VPN is a free, open source anti-blocking proxy tool developed by a company funded by the US government. Launched in 2013, it is designed to make people from Internet-blocked region to access to the Internet freely. In fact, when it was first launched, the major media advertised it as a tool for Chinese Internet users to bypass the Great Wall firewall. It is obviously designed for Chinese users, and its main function is to allow you to bypass censorship and access YouTube, Facebook, Twitter, Skype, WhatsApp, etc.
Unlike other VPNs, Lantern only works if it detects that you are trying to access a blocked website. At this time, then it is more like a proxy server, which connects to your device through its own server or other volunteer servers.
You can get Lantern VPN for free and enjoy 500MB of monthly data for free. You can still use it at low speed even after it exceeds the limit of 500MB, and the image loading may be slow, but the text content can be loaded fast. If you want to use unlimited traffic, you need to upgrade to Lantern Pro version. It has two packages, the annual package is only $32/year, and the two-year package is $48. No monthly or quarterly packages.
The Lantern Pro package has faster speed, unlimited bandwidth, up to three devices, and no ads. Bitcoin payments are not supported. There is no refund once paid.
Lantern claims that the data is encrypted and will not obtain user data, but in fact, there are multiple VPN experts' tests proving that it will track user's data by collecting browsing behaviors and other data. So use it with caution, but you can continue to use it if your personal data is not that important.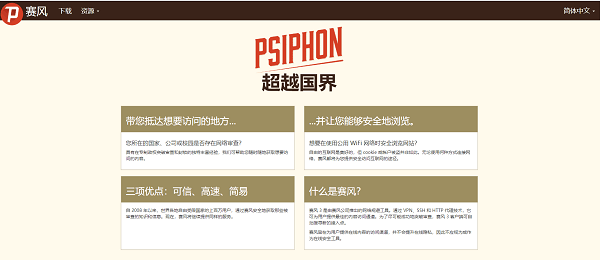 Pros
Free
No registration required
No traffic limit
Support Android, iSO phone and Windows
Servers in 20 countries
Cons
Free service up to 2Mbps traffic
There are ads
Slow and unstable
Psiphon is a professional open source tool to bypass the firewall developed by by the Citizen Lab at the University of Toronto. Psiphon uses VPN, SSH, and HTTP proxy technologies to bypass mainland firewall's censorship. Psiphon is one of the old VPN providers and works well on Windows, Android and iOS platforms.
The service is free to use, there is no bandwidth limit, and no registration is needed, but there is a problem that the speed is limited to up to 2M. Paid commercial Psiphon Pro has no speed limit and no ads on Android devices, but it is expensive and costs $ 14 per month.
After downloading Psiphon, click to start the connection. By default, Psiphon will connect to the server closest to China. Psiphon has servers in Japan, Singapore, India, Canada, the United States and other places.
According to actual tests, the speed is not very good, but basic page browsing is no problem. You can also watch standard definition video, but occasionally there is buffering. Using Psiphon can access YouTube videos, Facebook, etc., but not Netflix.
Psiphon's free service is slow but reliable, and can be downloaded as a backup VPN. Psiphon Pro is fast but expensive, and we recommend its free VPN.
Download links: Saifeng's official website (requires bypass to Great Firewall), mirroring site (no need to bypass the firewall)
You can also email them and they will send you the app to you.
Free VPN
1. 无界 Free, no traffic ;limit, but speed is slow, only supports Linux, Windows, Android.
2. 自由门 Free and has no traffic restrictions, but the connection is unstable. Only supports Windows and Android systems
3. Tor Tor is free and has no traffic restrictions. Speed is slow, Tor browser needs to be downloaded. Support: Linux, Windows, MacOS, Android system.
Notes on using a free VPN
Advise to use VPN on a secure public wifi to use it to avoid personal or company data leakage.
When using a free VPN, remember not to log in to your personal private mailbox, bank account or enter any password.
In view of the relatively weak security of free VPNs, for users in China, remember not to watch political videos or news.
Conclusion
The above VPNs are our best free VPN in China. If your budget is limited, you can try it out. However, if you are willing to pay for quality VPN services, we recommend that you use a more reliable paid VPN service, such as ExpressVPN, to avoid wasting time and enjoy fast speed. If you have any free VPN suggestions, please leave us a message in the comments section!