披露:此页面上的某些链接是附属链接,如果您选择购买,我们可以赚取少量佣金,无需您额外付费。非常感谢您的支持!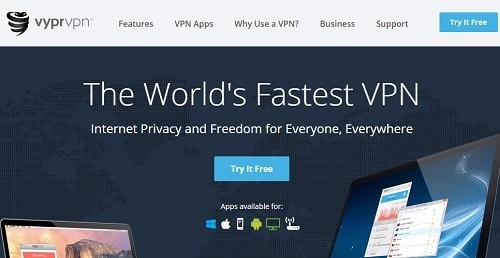 VyprVPN is powered by Golden Frog, which is a well-established global technology company that has been developing applications to preserve an open secure internet experience. Almost every VyprVPN review that you find online will tell you that this is an experienced security provider. It is a good VPN for people who come from countries where internet content access is censored. They have offered large-scale reliable and fast performance services since 1994 and with time, they have gotten better.
VyprVPN is a large-scale operation with more than 700 servers in more than 150 countries in the world. They also support many features like kill switch, which means that users are always protected even should the VPN connection drop. And the up-time? That is 99.9% meaning that the chances of the connection dropping are minimal, almost negligible. VyprVPN is not only good for individual customers, but even corporate customers like telecommunication companies, internet service providers and multi-service operators use it. These business customers get Tier 1 and Tier 2 support including fast access to the network engineers 24/7.
VyprVPN price and free trial

VyprVPN price is costlier than most other VPN providers in the market, but we found the price to be worth it. This VPN comes in three different packages to suit different budgets. Each package has different features. For example, the basic package which is $5 for the first month and $9.99 for the other months, it has features like 2 simultaneous connections, unlimited bandwidth and the users only get to use the PTPP protocol.
The second package is the vyprVPN pro package. It costs $7.50 for the first month of subscribing and thereafter, users will pay $14.99 every month. However, it has more features than the first package. For example, you will enjoy NAT Firewall protection, OpenVPN, L2TP/IPsec and Chameleon protocols, unlimited bandwidth and up to 3 simultaneous connections.
The third package is called the vyprVPN premier package. It is sold at $10.00 for the first month and then after that, you will pay $19.99 for every month. In this package, you are going to get features like 5 simultaneous connections, unlimited bandwidth, NAT firewall, PPTP, IPsec/L2TP, Chameleon and OpenVPN protocols.
Now, here is the secret to saving money with this VPN provider. All of the above-mentioned packages are offered at per year subscription. So, for the basic package, you can pay an annual rate at $5 per month and the same applies for the others.
Occasionally, Golden Frog offers free trials for specified time but you must provide payment details for subscribed service to enjoy it. When you have an active paid account, you can participate in VyprVPN refer-A-Friend program.
VyprVPN Speed and Performance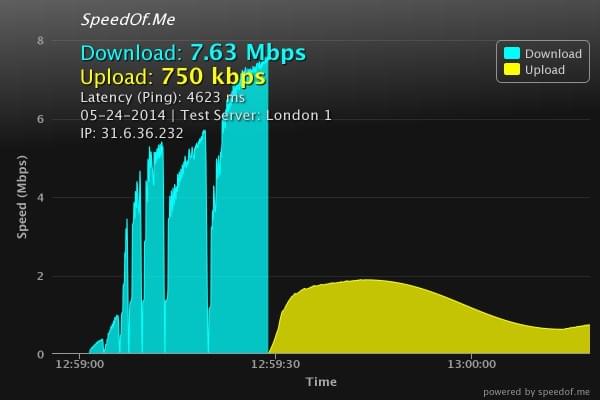 Users are assured of high VyprVPN speed for broadband internet connections. With over 700 VPN servers in 5 continents without 3rd-party hosting companies, users can only expect the very best. It also manages a global network in order to deliver fastest VPN speeds.
It means that you get reliable faster VPN speeds and easy to use applications.
The speed will depend on the server you use for VPN and the number of users on it but it is reliable. If your server goes down, Golden Frog's server cluster can quickly switch your connection to a working server in this cluster.
The clustered solution has simplified connection to VyprVPN. It is simple to choose a server location and you do not have to scroll through a lengthy list of servers. With clustered solution, you do not have to worry about server issues such as:
Overload
Unavailability
Support for your favorite protocol
Kicking you off therefore forcing you to reconnect
Golden Frog writes its code to deliver fastest VPN access with highest level of performance and security.
VyprVPN Security and Privacy
Golden Frog owns and manages all its servers, network, DNS and hardware to guarantee highest levels or VyprVPN security and privacy. It is more hands on approach on security and privacy than relying on other hosting companies. Additionally, Golden Frog also writes 100% of its code. There is an in-house team of network engineers with decades of experience on how to optimize a global network and ensure it is the most secure and fastest for your business.
VyprVPN encrypts connections on wireless networks and Wi-Fi hotspots. Users also enjoy IP and Identity protection. It is possible to investigate fraud or conduct competitive research without revealing your identity and prevent IP address of your business from being filtered or blocked.
A NAT Firewall has been added as an additional security layer. When you connect to VyprVPN, it will block all unrequested inbound traffic. NAT Firewall is not included in the basic package though. In addition, users of the basic package will not enjoy more protocols like L2TP/IPsec, OpenVPN and Chameleon. They only get PTPP, but even that is good enough for their security online.
One thing that you should know though is that if you are looking for VPN so that you can download torrents, this is not the one to go for since it does not allow that. However, being registered in Switzerland and in the USA, you might not be out of reach of the NSA.
It uses 256-bit and 128-bit encryption.
Customer Support
Apart from their well-detailed FAQ page, they also offer 24/7 customer support through live chat. You can contact them even on the smallest of issues and they will sort you out amicably. You can also lodge a ticket or send them an email. Ticket may take a few hours to get a response and so will email, but they will assist you appropriately. They do not have telephone support.
Pros
Uses 128-bit and 256-bit encryption for total security
You will be switched on to a faster server in your cluster if you login using a slow one
Has the kill switch feature to log you off if your VPN connection drops
Can connect using more than two devices simultaneously, depending on the package you have subscribed to
Supports many protocols, for example, OpenVPN is 160 and 128-bit encryption, L2TP is 256-bit encryption while PTPP is 128-bit.
Customer support is available through live chat 24/7
Cons
It is expensive
No free trials
Verdict
Despite the high cost of the VyprVPN, the benefits are more than the disadvantages. It does what a VPN is supposed to do and that is protect you on the web. For some good measure, there is also a NAT Firewall and therefore you will be assured of total security.