披露:此页面上的某些链接是附属链接,如果您选择购买,我们可以赚取少量佣金,无需您额外付费。非常感谢您的支持!
TorGuard is an ideal VPN service for users who use torrents or P2P, but not only: it also works perfectly for anonymity-savy users, since it doesn't keep logs.
TorGuard, a perfect VPN to download Torrents, but not only.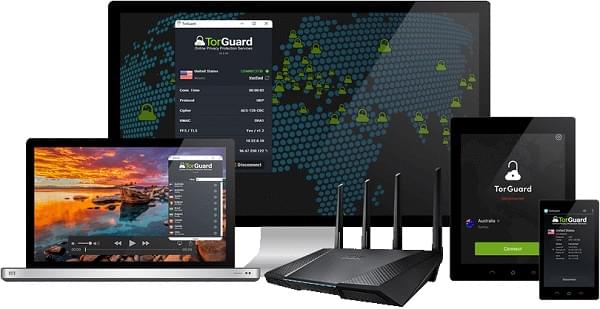 TorGuard gets its name from the BitTorrent protocol, and became famous for its Proxy service. However, TorGuard doesn't only offer Proxy services, the company also offers Smart DNS protection, encrypted emails, and, of course, an anonymous and log-less VPN service, which is what we're going to talk about today.
Despite its name suggesting it may be a VPN specifically designed for downloading torrents, TorGuard is a complete VPN service available in over 55 countries. The VPN is available for a cheap price for a no-log VPN and considering it offers P2P protection and up to 5 simultaneous connections for the same account.
TorGuard also has the advantage of being available on all imaginable operating systems, including but not limited to PCs, Mac, iOS, Android, Linux and more. The servers are based in the US and as previously stated, TorGuard guarantees its users anonymity through its services thanks to its no-log policy, and the servers containing the user database are not based in the United States.
1) TorGuard VPN: Prices and offers
TorGuard offers sereral packages and prices start at $9.99 per month, while their Anonymous Proxy service is only $5.95 per month. Their Encrypted Email services are available for only $6.95 per month, and the Smart DNS is $5.95 per month. You'll also be able to get dedicated IP addresses from $7.99 per month: Those can be quite helpful if you wish to set up a game server or use specific websites or services that work well with one specific IP address (particularly when it comes to Hulu, Netflix, and other online streaming and geographically restricted services).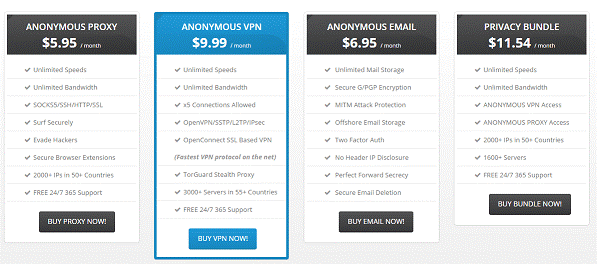 Torguard offers a really affordable Privacy Bundle starting at $11.54 per month, which is a fantastic deal for that kind of service compared to what you'd have to pay when subscribing to both VPN and Proxy services separately. The rest of their plans start at 19.99 for 3-months and $29.99 for six-months, while a yearly plan is only $59.99.
TorGuard services can be paid for using a wide variety of payment methods, including both classic credit card or Paypal methods, as well as cryptocurrency options, and even gift cards (as of January 2018, the cryptocurrencies they accept include Litecoin, Bitcoin, Ethereum, Ethereum Classic, Dash, Zcash, DogeCoin, Monero, BlackCoin, NavCoin, Novacoin, PIVX, Peercoin, Startcoin, Vertcoin, CloakCoin, Namecoin, Nxt, Potcoin, Steem Dollars, VeriCoin, WorldCoin, Primecoin).
2) TorGuard in a nutshell
☑ Unlimited speeds
☑ Unlimited Bandwidth
☑ Up to 5 simultaneous connexions allowed
☑ OpenVPN/SSTP/L2TP/IPsec
☑ OpenConnect SSL Based VPN (Fastest VPN protocol on the net!)
☑ TorGuard Stealth Proxy
☑ Over 3000 servers in 55+ countries with a guaranteed 99.99% up time
☑ Free customer support available 24/7 all year long
☑ Available on Windows, Mac, Linux, Android, iOS, as well as VPN routers such as DDWRT and Tomato.
3) Detailed features
The clients and user interface
Once you've subscribed to one of Torguard's services, you can go ahead and download the TorGuard client version you need for your device on https://torguard.net/downloads.php.
The client is available on Windows, Mac, Linux, Android and iOS, as well as VPN routers such as DDWRT and Tomato. All versions are regularly updated for a safe and optimal experience, which is definitely a good point for TorGuard. Once you've installed your version of the client, you'll be able to launch it and access the service. The home screen is as simple as can be with its minimalistic and smooth design ; however, don't be fooled by its apparent simplicity: advanced users will find tons of settings and features to tweak to their heart's content. From there you can pick a country, a server, a tunnel type, a protocol and a cipher. The client features an auto start option, which can be useful if you tend to forget to manually launch your VPN. Let's not forget about the built-in kill switch, it'll ensure your apps or software automatically disconnects if VPN does (super useful with BitTorrent!). Other privacy and security features include WebRTC leak block and DNS leak block, for an overall super safe experience.
Servers and countries availability
TorGuard allows you to connect to a vast amount of servers in a huge variety of countries, as they currently offers over 3000 servers in 55+ countries with their VPN plan. Every server available is guaranteed never to be overloaded, with a 99.99% up time. Most of the countries available on the list offer several IPs for users to choose from, ensuring servers can't get overloaded and optimal speed is preserved for all users, regardless of their location and server choice.
Stealth VPN
Torguard offers dedicated 'Stealth' VPN servers (as opposed to special VPN protocols), hence making their stealth technology accessible from any device or platform (including mobile), which can prove particularly useful should you need to browse the web from sensitive countries with heavy censorship, like China. Even if you're not a Chinese resident, you'll be glad to have TorGuard installed on the different devices you own should you visit a sensitive country someday, since it is known to successfully circumvent country-wide firewalls like the infamous Great Firewall of China (check out this video for more explanation https://youtu.be/UkoKZHxAEpQ).
Speeds and bandwidth

Have you ever experienced Bandwidth restrictions and speed throttling with other VPN services? Rest assured that sort of things won't happen with TorGuard. Whether you're torrenting, streaming (TorGuard is US Netflix compatible, by the way!), or simply browsing the web, TorGuard is definitely one of the fastest VPNs out there, specifically since their recent OpenConnect protocol integration.

And as much as VPNs are known to slow connection speeds down, and so does TorGuard, but at a very negligible level.
Email service
If your privacy needs also include email protection, TorGuard will without a doubt tick all of your boxes. They offer a 10mb encrypted email account for free, while almost no other VPN provider does. You'll dispose of a fully encrypted 10MB email account @email.tg secured on Torguard offshore servers, relying on optimized OpenPGP encryption. Their email service obviously features classic email components, such as calendar, task planner, key storage, bulk import, advanced search and other useful and classic options. While encrypting your email may not really seem like a priority to your average internet user, truth be told, laws move fast when it comes to Internet legislation, and huge tech companies may soon become unable to protect their users' data from governmental entities or law enforcement, so it's definitely worth looking into it. One more pro for TorGuard: their service lets you explore that option, for free.
Privacy

To TorGuard, nothing matters more than being a reliable and privacy-respectful company. Communication-wise, they strongly emphasize on being a simple and easy alternative to conventional monitored internet connections, so their point definitely isn't to use their service to spy on users, when that is specifically what they try to protect people from. Their policy on the matter is crystal clear: they do not keep logs of any sort ; neither data, nor traffic. Good news for all of the privacy-concerned fellows out there, and the torrenters too. TorGuard believes your privacy is precious, and makes sure it stays what it's meant to be: private. They offer a secure 256-bit AES OpenVPN encryption by default and allow the user to select their own encryption cipher if needed. Users can also choose between a BF-CBC, AES-128-CBC, and AES-256-CBC encryption on all servers. TorGuard VPN supports PPTP, OpenVPN, L2TP/IPSec and SSTP protocols.
Customer support
Thanks to a chat service directly available on its website, customer support is available 24/7 on TorGuard.net. It allows both potential subscribers and actual customers to ask questions about the service, request help for setting up their devices or report a problem if any. The agents are both engaging and friendly, communicate quickly and have all the links they need at their fingertips to help you, resulting in a fast and reliable service, just as advertised by TorGuard. If you ever turned out to have a problem with your VPN subscription, Torguard would do everything they can not to leave you in the dark.
What's more, subscribers can use a ticket system to ask questions, to which they will receive an answer via email should they not want to engage in a chat. An agent from the tech team will usually answer within 24 hours and address any question you may have.
TorGuard VPN: Conclusion
What we liked:
• The trustworthy no logs policy
• The 3000+ servers in over 55 countries
• The dedicated servers for streaming and torrenting
• The proxied OpenDNS requests can be changed manually to TorGuard DNS servers
• The free encrypted email account
• The stealth servers availability
• The fast connections
What we disliked:
• No free trial available (however they do offer a 7 day satisfied or money back guarantee)