披露:此页面上的某些链接是附属链接,如果您选择购买,我们可以赚取少量佣金,无需您额外付费。非常感谢您的支持!
When traveling to China, you will need the best VPN for travel to China, that is, unless you don't like to stay connected to family and friends through social media. In China, Twitter, Facebook, YouTube, Whatsapp and even the search engine giant Google are blocked.
You would think that would be enough, but it is not, because there is much more. The Great Firewall of China pretty much blocks everything else that you want to do online, even as simple as watching a movie on Netflix. There is a lot of heavy censorship but the good thing is that a VPN can help you bypass this blockade and get to what you want.
However, not just about any VPN for China is good. Just because the vendors say it is the best does not mean it is. On the contrary, you have to do your footwork well to get the best one. Thankfully, there are so many choices. Once you know what features to look for in the best VPN, you will have an easier time. What you need is total anonymity when you are surfing. In this article, you will see five of the best VPN for tourist in China, their features and prices.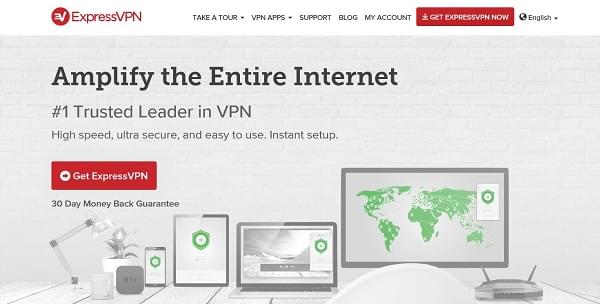 ExpressVPN is without doubt one of the most established names in the VPN market. If you are traveling to China, this is the best VPN to enable you to access the censored sites. When you look online, you can see the many rave reviews there is for this VPN and the good thing is that you will love using it since it is so simple to use.
Note however that you have to install the ExpressVPN app before you get to China. They have already blocked the website in China.
ExpressVPN has more than 6500 servers in different geographical locations in the world. Thus, it is easy to generate a new IP address for any of your devices that you use to access the internet. Some of the Express VPN servers are in the more liberal neighboring countries such as Nepal, Japan, Hong Kong and others. Thus, you will be able to access censored content on any website with good speeds. The closer you are to a server, the higher the speeds that you enjoy.
In addition to using servers that are close to China, the ExpressVPN team of engineers works round the clock to stay ahead of the China state sensors. Besides, they also keep a customer assistance team for round the clock customer service. You can be sure that any hitch that you may encounter is going to be resolved fast.
Features of ExpressVPN
A VPN is as good as its security features and the ExpressVPN does not disappoint. With a 256-bit encryption, they do not come any securer than that. However, another thing that you must know is that it has a kill switch, which kills the connection immediately the VPN connection is dropped. That way, you will never leave any footprint when browsing in China.
There are many security protocols but you will definitely be using the OpenVPN protocol, which is the best of them all. With this one, you can be assured of total anonymity as you surf online.
This VPN provider has intuitive and responsive apps for different internet devices. It even has an app for routers.
ExpressVPN Price
Although this is the best VPN for travel to China, you will have to pay a fee for using it. It is costlier than most VPNs, but the best things cost the highest. However, there are ways to get good value for the money. There is a 30 days money back guarantee.
If you just want to use it for a short while, you can subscribe for one month only at $12.95. The six-month package will cost you $9.99 per month and the best of them all is the 15-month package that will cost you $6.67 per month.
Visit ExpressVPN (Discount Price+ 3 Month FREE)!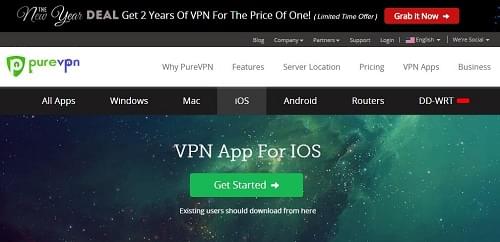 Hot on the heels of the ExpressVPN (not that they are related) comes the PureVPN, which is another of the best virtual private networks to use to access your favorite content on the web in different countries.
It is a good VPN for tourist in China. With this network covering your footprints on the internet, you will be able to access content from Netflix, Hulu, Facebook, YouTube, Google, Twitter and other restricted websites.
Established in 2007, PureVPN has more than 6500 servers located in 140+ countries in the world. Thus, when you are in China, this VPN will hook you up to the closest server, probably in Hong Kong or Japan.
Features of the PureVPN
PureVPN has been a working vpn in China for many years. It can help you bypass the restrictions of the Great Firewall effectively. It will not only keep your footprints covered on the web, but it will also avoid any VPN blocking, something that China is well known for.
Now you can connect to 10 devices at the same time with just one single PureVPN account.
For encryption, this VPN uses the 256-bit protocol with on OpenVPN that will disguise your internet traffic so that it is not recognizable to the snoops.
PureVPN has a zero log policy, and they say that third parties audited them frequently to ensure they keep no logs at all have. That means that as soon as you are done using the VPN to access content online, it is as if you were never there.
Apart fromOpenVPN protocols, this VPN also supports L2TP/IPsec and PPTP. With such choices, you can choose the type of encryption that you would like. You will be able to connect five devices simultaneously.
There are no limits to what you can do with this VPN once you are connected. You can download whatever you want, you can use it for as long as you like. You shall have the liberty to do anything. The effect of the VPN on the internet speeds is negligible, something that you will not notice.
The customer service is awesome, available every hour throughout the year. This VPN also supports Chinese language and the best thing is that you will get Android and Mac support individually for each app. You should download the PureVPN app before leaving your home country to China because you may not be able to download it when you get there.
PureVPN pricing
First, they do not offer a free trial period. However, the money back guarantee is almost as good. The monthly price for PureVPN starts at $2.91 per month when you buy the 2 years package. For the monthly package, you will have to pay $10.95.
Other things that you will enjoy from this VPN are the PureVPN, which gives high connection speeds and higher security. You also get NAT firewall. DNS offers you protection against snooping when you are using the internet.

In any list that you will find online for the best VPN to use in China, you will find NordVPN listed as one of them. This is because of its agility, security and effectiveness. Every day, the Great Firewall gets better and better at blocking VPNs. Thankfully, the Nord team works hard to stay ahead of the strict censorship of the Great Firewall.
With over 4000 servers, Nord VPN is one of the biggest companies out here. They have advanced technology for security and protection and the best thing about them is that they do have a service tailored for use in China.
Without any of their servers in China, this keeps them safe from the Great Firewall. The most important thing about Nord VPN is that they use obfuscated servers, which hide your traffic by disguising it as regular https traffic. However, you will need to know how to get the obfuscated servers to work.
NordVPN features
NordVPN has some advanced security features. For example, it has a zero log policy meaning that no logs are kept at all. It also offers the users advanced technology to make sure that no one knows the kinds of websites you have been visiting. By using DNS leak protection features, the NordVPN is able to find out whether there are any leaks, that is, whether your network is sending out any unencrypted requests.
On the Nord VPN website, there are many resources to help you cover all of your footprints on the internet. From information to help you test whether you have DNS leaks to helping you set up your VPN, you will find everything that you need to know. Besides, their customer support is top-notch.
The automatic kill switch feature is a great addition indeed. Should the VPN connection drop for any reason, this feature will cut any connection to the internet. You will be guarded every minute you are online using the VPN and should that guard drop for any reason, you will be disconnected immediately.
You can also combine the OpenVPN with Onion for more advanced security online. While both of them work in just about the same way, there are slight differences. Well, the Onion Network disguises traffic as http while the OpenVPN protocol disguises traffic as https so that you can bypass all censorship.
The NordVPN speed is quite fast. You will notice no difference at all between speeds before and after VPN connection. You will be connected to the closest servers for faster speeds.
You will be able to protect your mobile devices and routers through the apps designed for them. They are smooth and quite responsive. The apps are made in such a way that when the connection to the VPN drops, the apps cut the connection to the internet so that you are protected from censorship.
You will also serve specialty servers that allow you to do certain things such as gaming, torrenting and other P2P activities. These servers also have features that protect against phishing, malware attacks and governmental snooping. You can be sure you have 100 percent protection.
NordVPN prices
There are many plans sold at different prices. Monthly plan is $11.95, 1-year plan costs $4.92/month, 2-year plan costs $3.71/month.
4. TunnelBear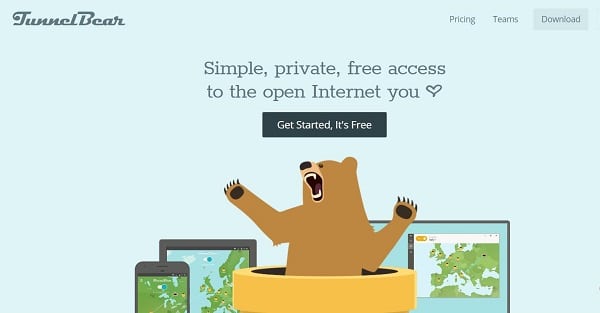 TunnelBear VPN is the best VPN for travel to China because of its features, versatility of use and the fact that it has servers in Hong Kong rather than in China itself. Because of the closeness of Hong Kong to China, it means you are going to enjoy faster speeds. This is also a good thing because the Great Firewall of China blocks VPN services. So, not having the servers located in China is itself a good decision.
Before buying a VPN service, many people traveling to China want to know how it works to bypass the censorship in China. Well, as it turns out, every VPN made to be used in China has a special feature and TunnelBear is no different.
It uses a special feature that is known as GhostBear. The main function of this feature is to disguise all of your traffic to look like regular https or http traffic, thereby bypassing the snoopers. For you to enjoy using a VPN service in China, the VPN traffic has to be disguised so that it does not look like VPN traffic. GhostBear has Obfsproxy, a special technology that disguises all traffic.
There are many things to love about this service. A simple search will show you that it is free of charge. That is right; you do not have to pay anything to use this technology in China.
But there is a catch, actually, there are a few catches. One of them is that this VPN service is not available for iPhone, iPad, basically, it is not available on iOS. However, it is available on android, Windows and Mac. Another catch is that the speeds are not fast for the free version. Thus, you may want to use it in China if you do not worry about speed but if you want faster downloads, you will have to try another one.
For security, you will use the OpenVPN protocol with 256-bit encryption, and that is fast, and very secure. They have a strong zero log policy where no logs are kept. IP address are disguised, connection is cut immediately the VPN connection stops.
The price
TunnelBear is a free-mium VPN service. You can use the free version if you are not a heavy internet user or you can use the paid-for version.
You get all the features that it comes with, free of charge if you are going to use less than 500MB per month. Just make sure you download the app before you get to China and you will enjoy accessing banned content free of charge. Because of the zero charge, TunnelBear is the best VPN for tourist in China.
If you think you will use more than 500MB, then it is better to get the paid-for version, which has better speeds. The price starts at slightly less than $5 for a year's subscription.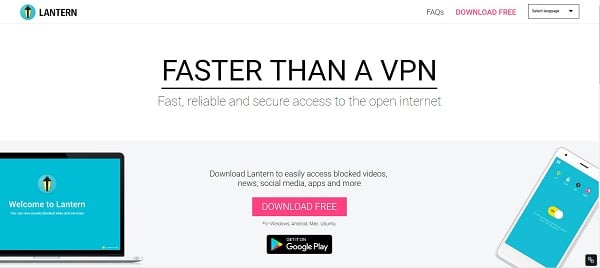 Lantern VPN is actually funded by the US government, specifically to help citizens living in oppressed countries access the internet content that they need. As such, it is very powerful and cam rightfully be called the best VPN for travel to China.
While it is not really a VPN but a proxy, it works in just about the same way. It is not only very popular with tourists traveling to China, but it is also very popular with Chinese citizens themselves who have been using it to bypass their government's censorship and access different types of banned contents online.
As a proxy, this service is not going to help you stay anonymous on the web though. It will however help you access banned content. Thus, if you are looking for anonymity, this service will not give you that. If you are looking for unregulated access to the internet, use it. Note that it is going to keep a log of you browsing conduct online.
To use this service, just download the android, Windows and Mac app, and then launch it. It will use the default browser that you have been using, and it requires no detailed setup. This fast launching makes it one of the fastest services to use when you are in China.
If you would like to use YouTube, Whatsapp, Facebook, Twitter and any other blocked website in China, download this proxy. It will help you get fast access to all these websites and you can keep your friends and family updated on your travels to China. The good thing is that it is faster than a regular VPN with awesome internet speeds.
Lantern VPN is a free-mium service meaning that you can use it free of charge and you can as well use the pro version of it. For the free users, you will get a monthly quota of 500MB worth of use. This will be indicated on the dashboard of the Lantern VPN, so you will see how much usage you have left anytime.
For the pro version, there are two pricing packages. One of them costs $32 a year. The second one costs $48 for two years. Thus, you can choose the package that will suit you in the best way possible. Some of the features that you will enjoy from the pro version of Lantern is an active development team that blocks all the threats and bypasses all government blocks to help you access what you want fast.
You can download whatever content you want at high speeds and there is no limit to how many downloads you can make. Unlike the free version which limits how much you can download, the premium version gives you unhindered access that is worthy of your package.
Conclusion
With any of these VPN services, you can be able to choose the one that meets your needs perfectly when you are visiting China. When looking for the best VPN for tourist in China, it is much better to consider the features than the price. Anonymity, zero log policy and good internet speeds are important. However, for a combination of all the good features in one package, you will have to pay a fee. Now, your stay in China will be very enjoyable as you can access your favorite websites online, just as if you were at home, thanks to the best VPN service.