You have been accessing the internet through your iPhone, for a long time too. And you feel suspicious, because you think Uncle Sam is always looking, lurking there behind your shoulders to see what you are doing online. You are spooked, if you could, you would resist the temptation to go online, but that is impossible. You see, you believe in the right to information, not just what someone thinks you should know, but all information. Not in this day and age! Internet has become a staple diet for smartphone users. From shopping, to catching up with kith and kin back at home – everything is on the internet. Or is it the internet of everything? Ask Cisco, they know better! One thing is for sure though… with the internet censorship becoming increasingly noticeable every day, well, there is need to hide your digital footprints. And yes, you can do it! NSA is gathering data generated by your devices. But they do not have to know that it is your device. Just mask your digital footprints today by using the iOS VPN app of your choice. But wait a bit … VPN app? There are so many. And they all claim to be the best in the market. So how do you know that you have the best? In this short compilation, we bring you reviews of not only one best VPN app for iPhone, but five of them. If you believe in the right to information wherever you are in the world, welcome. Keep reading.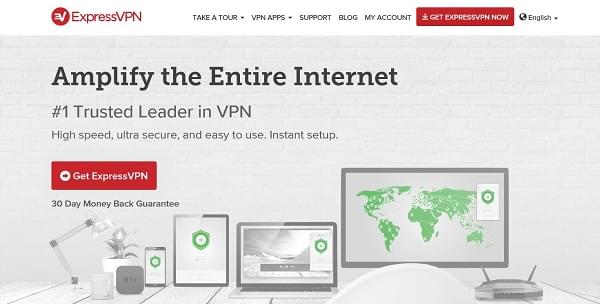 ExpressVPN has been in the market for many years and over that time, their experience at offering anonymity for casual and intense internet users has improved significantly. It is therefore little wonder that today, they off the best VPN app for iPhone and other mobile technologies. It has a simple user interface, that is, it is easy to set up without too much configuration shenanigans, can access censored content at fast speeds and you can enjoy many more benefits. Is ExpressVPN for iPhone free? No, it is paid for and at very affordable costs too. This VPN service can be used with other devices. It can also be used with Mac, Windows and android devices.
With VPN or iPhone, you can do practically everything that the regular connection does not allow you to do. For example, if you are traveling to countries where the use of the social media is heavily censored, you can connect through your VPN service and enjoy yourself. You can also stream videos through your iPhone at incredible speeds.
Encryption protocols
The default protocol for the ExpressVPN app for iPhone is L2TP/IPSec, which everyone agrees is the best protocol for mobile devices. Other protocols that this VPN supports include the PPTP and OpenVPN, which is more secure.
You can only connect your iPhone and one other device at the same time, it means two simultaneous connections only.
When you run the VPN, you will be shown a map with dots, each dot representing a server. You then just choose the server that you would like to connect to and you can even save your favorites so that you are connected to that server when you next login.
Does ExpressVPN keep logs?
They will only record the connection times and then after that, they will not record the user activity. It works well with the iPhone operating system where many other apps fail. Because ExpressVPN have many servers scattered in different parts of the world, they can be able to allocate their users virtually any IP address. This means it is impossible to track the whereabouts of an internet user.
ExpressVPN cost and free trial
ExpressVPN offers a one-day free trial, and they have a 30-day money back guarantee. If by the end of 30 days you can show that you were not satisfied with their service, you can claim your money back.
Cost is $13 for the monthly package, $60 for the six-month package and $100 for the annual package.
They have excellent customer support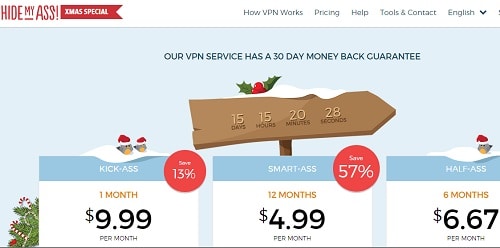 HideMyAss! VPN is one of the most popular VPN providers in the world with more than 400 servers in different cities in the world. At the same time, what makes them even more popular is that they have native apps for different mobile technologies. Founded way back in 2005, this VPN provider has been in the market for a good time now and it has grown and gotten better with time, to such an extent that they now provide an app for android and iOS devices. If you have an iPhone, you definitely would like to use it everywhere on the internet without being blocked out of some sites. You need a VPN service that will unblock websites and video sites so that you can enjoy yourself. You may also be doing business transactions online, with PayPal and Amazon having apps for mobile, you will need to ensure that your identifiable information is safe. The only way to ensure this is to encrypt all data exchanged from your device to the servers and vice versa.
Together with 24/7 customer support on email, live chat and telephone, this VPN app for mobile is easy to download and install. It is also free to download from your app store. The app is made with the iPhone in mind and therefore its integration with the operating system will be thorough and quick. You can then be able to access geo-blocked content by picking a VPN server located in that country so that it appears as if you are in that country.
Protocols
HideMyAss! uses L2TP encryption protocol for the iPhone. It also uses the PTPP but the L2TP protocol is recommended because it is more secure and balanced. As of now, the most secure protocol – OpenVPN is not supported.
Free trial and HideMyAss! costs
There is no free trial from HideMyAss! but they offer all users a 30-day money back guarantee where you can claim your money back if you are not satisfied with their service.
You can opt for one of the three available packages. The first one is the Kick Ass package that is sold at $9.99 for one month. The Half Ass package is sold at $6.67 per month for six months and the Smart Ass package that costs $4.99 per month for 12 months.
Cons
Because it is based in the UK, the company is required to keep partial logs by the law and the same can be made available should the law request for them. Therefore, although HideMyAss! is a good iOS VPN app, it is not completely log-less.
3. NordVPN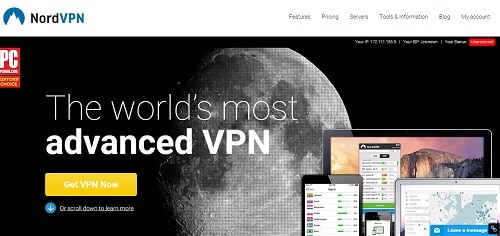 If you have an iPhone, you know that you can practically use it for everything, including transacting online. You can do almost everything that you can do with a computer. However, one thing that will always be on your mind is the security for you when you are browsing online. One of the constant worries is about your security when you are using public Wi-Fi. However, your worries are baseless since with the NordVPN, which is the best VPN app for iPhone, you need not worry since your device is safe even when using public Wi-Fi and you can access all the content that you want on the internet. NordVPN app for mobile was built with the integration with mobile operating systems in mind and that is why set-up is so easy.
Based in Panama, which has no policy about logging, users are assured that this VPN service is totally log-less and therefore you are guaranteed total anonymity as you use it on your iPhone.
While many VPN services have been clamped down with the Netflix crackdown on proxy IP addresses, NordVPN still works even when you try to stream content from Netflix.
Easy to install
With the NordVPN native app for mobile, it is very easy to install, connect and start using. You should select the iOS one since that is made specifically for that operating system. With more than 550 servers in almost 50 countries in different continents, users can choose the server that is closest to them to connect to the VPN.
Protocols
NordVPN for iOS comes with one encryption protocol that is made for mobile use and that is IKEv2/IPSec. Once you connect to the web through this VPN, you will be able to stream video without delay and access all the content that you need at commendable speed. To be frank, you will hardly notice any difference between using your iPhone with and without VPN.
NordVPN free trial and price
Firstly, you will download this iOS VPN app free of charge from the app store. They also offer users a three-day free trial, which is enough time to allow you to decide whether you want to continue using the service.
For one month's subscription, you will pay $11.95. For a year's subscription, you will pay $83.88.
Cons
NordVPN for iOS will kill all your data connections on your iPhone, but if you uninstall the app, you will resume the data connections.
4. IPVanish VPN
With the Snowden shocker that the government is very interested in what you do online and offline, and with hackers who hanker after your identifiable information getting smarter every day, you really need to make your IP address vanish when you are using your iPhone online. What better way is there to do that than use the best VPN app for iPhone? Just as its name suggests, IPVanish VPN will do just that, make your IP address to vanish completely and give you total anonymity when you use it to stream content on the internet. This is a tier-one network, which means that the VPN company manages its own network without involving any third party thus making the connections better and faster.
To get started, just download the IPVanish app from your app store free of charge. If you are using iPhone 5, 4S, 4 and 3gs, they are all compatible with this app and so are the iPad and iPad Mini.
Set-up is so easy and it should not take you more than a few minutes even if you are a first time user of the VPN. After downloading the app, just go to launch and click ok if you would like to get notifications or click "don't allow" to block notifications.
You will then be prompted to sign up for an account or login if you are an existing user. You will then get the install profile alert, which you should ignore, and just click install. After successful installation, you will be able to select the city that you would like to connect to the VPN from, and when you turn the connection slider on, you will be connected and protected.
IPVanish VPN features
Supports the encryption protocol L2TP, which is easy to set up. It also supports PPTP for iPhone although the L2TP is the most recommended.
They have a zero log policy. There are no logs kept of your online activity
File sharing is allowed
Many servers, more than 500 in different countries
Unblocks video streaming and websites
Has the kill-switch feature that cancels your activity online when the VPN connection fails.
Bitcoin payment which is an anonymous currency
IPVanish VPN cost and free trial
It is sold in three plans and you can pay through PayPal, Bitcoin or credit card. Subscription will renew automatically, but you can cancel that before the expiry of your subscription period.
The one-month plan is going to cost you $10, the three-month plan will cost you $8.99 and the yearly plan will cost you $6.49.
You will get a 7-day money back guarantee. This is for a full refund, in case you are not satisfied with the service.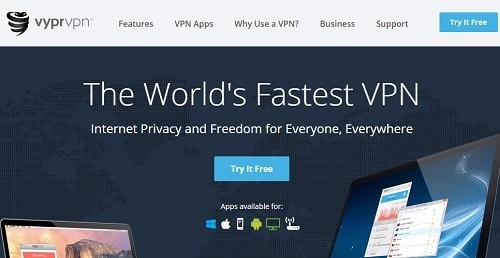 This VPN provider is renowned for their ability to provide VPN software for any mobile or desktop device. Thus, if you have an iPhone and you would like to encrypt it as you access content online and as you do transactions online, you have come to the right place. This is the best VPN app for iPhone especially because they have created a native app that is made available on demand, solely for the iPhone. VYPRVPN is a tier-one provider, meaning that they manage their own network and therefore you can be assured of fast connection speeds. You will have an uninterrupted video streaming experience.
VyprVPN has many encryption protocols, some for Windows and Mac clients and some for the native apps that are designed for android and iOS. The most popular protocol for iOS apps is the L2TP, which is more secure than the PTPP and has better balance between speed and security. On vyprVPN, the OpenVPN does not work with iPhone but the L2TP is more than sufficient. Note that vyprVPN also has Chameleon, which protects users from VPN blocking. For extra security, the addition of NAT firewall ensures more protection for your mobile device, router or computer.
This VPN provider has many servers, more than 700 in many countries in the world. When you set up the VPN app in your device, you can then choose the server that you would like to connect to and you will be granted an IP address of that country, thus masking your identity while you are online.
The service is log-less. However, it will retain connection logs for diagnostic motives only and these logs will never be sent to Golden Frog.
VyprVPN is a one-swipe connect software for your iPhone. In addition, it will also automatically reconnect when there is a drop. You will not be required to configure the app anyhow, as it will do self-configuration once you install it. Just make a one-install process and you can switch servers as you like without having to install new profile.
VyprVPN costs and free trial
There are different plans available for different budgets. The premier package is sold at $10 per month if paid in one lump sum for 12 months or $19.99 per month. The pro package costs $8.33 per month if paid in one sum for 12 months or $14.99 every month. The VyprVPN package costs $6.67 per month if paid in one sum for a whole year or $9.99 per month. All users get 30-day money back guarantee, so they can claim back their money if they do not find the service satisfactory.
The company offers customer support 24/7. In addition, they have a detailed help center where all your questions about using vyprVPN iOS VPN app have been anticipated and answered in advance. The Golden Frog Company owns this network and ensures efficient management all the time.
Cons
With all things considered, this VPN is very expensive as compared to many others in the market. However, it does an efficient job.
Conclusion
Your protection when you are online is of paramount importance in this age of notorious hackers and government censorship. The mobile devices are not spared too and the Snowden revelations showed the world that no one is safe. However, to counter this, iPhone users have many native iOS VPN apps to use for their protection. Your choice for the best VPN app for iPhone will depend on the price, the security features and the effectiveness. Choose to be protected today.