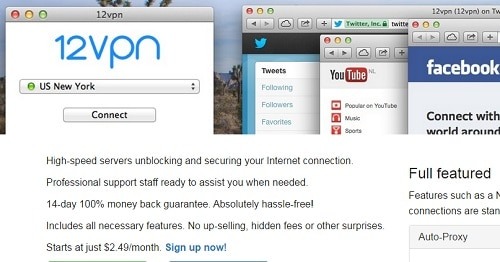 Having been in the market for many years, since 2007 to be precise, 12VPN has grown to cover a wide geographical network to such an extent that it covers almost the whole world. In this 12VPN review, we are going to look at the security features that it comes with. There are packages for the US IP and for world VPN. If you are in the US for example, you will get the 12-month package at $79, for the entire 12 months. You can use this VPN anywhere in the world. In fact, it is one of the recommended VPNs that can be used in China. For the many years that they have been in business, they have offered a secure and reliable environment for keeping people safe and anonymous as they access different content online. This VPN is owned by Anuson Limited, a well-established technology company that meets the expectations of its customers.
12VPN price and free trial
They do have a free trial, well, sort of, since it is a 14-day money back guarantee, but it is really the same thing. It means that if in the 14 days of registering for this VPN you find that you do not like it, you can just claim your money back, in full and stop using it. The claim is hassle-free. If you encounter any issues when you are on the free trial period, the technical support team is going to give you all the help that you need.
Compared to other VPNs in the market, the price is really good. This VPN is sold in three packages. The first one is the three month package that is going to cost users $12.95 per month. On this package, you will enjoy features like ticket and email support, multiple simultaneous connections, unblocking video sites and so on. The second package is the six monthly one, which is priced at $9.99 per month while the annual package is priced at $8.25 per month. Remember, this is all the cost that you will pay as there are no hidden fees. If your server is slow, you will be switched on to another server without any additional cost on your part.
And paying for this service and starting to use it so easy. Soon after you have made payment, you are going to receive an email with the login details.
12VPN Speed and performance
Firstly, there are no bandwidth limits even for the basic users. Thus, all users are assured of high download speeds. In addition, should you be logged on a slow server, you will be switched to a faster server at no extra cost on your part. The speeds make gaming online easier. You can also download stuff and watch movies without any hitch. YouTube videos are going to stream without any buffering, and when you download large files, you will notice that they download at reasonable speeds too. The best thing is that there will be minimal difference between download speeds for when you use the VPN connection and when you do not. To enjoy the best speeds, it is best to connect to a server that is in the country where the content that you want is available. For example, to access the BBC World news, it would be better to use the server that is in the UK, and so on.
Overall, we can say that the 12VPN speed is above average. You will love the download and upload rates when using the VPN. Since it supports the OpenVPN, it is fast and secure. Although peer-to-peer file sharing is not allowed, you will still find this VPN very useful since you can use it on almost every mobile and computer technology. You can use it on Android, Blackberry, Linux, Mac OS, Symbian, iPhone and Windows. It also supports many protocols like IKEv2, OpenVPN, IPSec, PPTP and L2TP
12VPN security and Privacy
This is all it comes down to – your protection and security online. And the 12VPN security is high since this service supports many encryption protocols. It is completely log-less, and therefore you are safe. If the connection drops when you are accessing content on the internet, log out because it does not have the kill switch feature. Among the protocols that this VPN supports include IPSec, which uses the 128-bit encryption technology, 1024-bit encryption technology for SSL keys. Then there is the OpenVPN, which uses the 256-bit encryption technology and the PTPP protocol, which uses the 128-bit encryption technology. On their FAQ page, you will find information to the effect that they have the NAT Firewall for extra security.
Pros
12VPN offers multiple connections, but users are advised to connect different devices to different servers for the best performance
It is affordable, available in three packages to meet different needs and budgets
Available on mobile technologies like Android, iPhone, Blackberry and Symbian
Unlimited bandwidth for all users
Log-less
Comes with a 14-day money back guarantee
Easy to set up and use even with minimal computer experience
A very detailed FAQ page where customer's needs have been anticipated
High speed servers in many countries for faster and secure connections
Cons
Peer-to-peer file sharing of any kind is not allowed
No telephone customer support, only email and ticketing
No kill switch
Our verdict
There are many things to consider when looking for the best VPN service. Even with its shortcomings, 12VPN service meets all expectations. The good thing about this VPN service is that it can be used on any device, a flexibility that many competitors do not offer. Multiple protocols are supported for extra security and with the service, you can access whatever content you desire to access online anonymously. Compared to other VPN providers in the market, 12VPN will give you value for your money since it can also be used on mobile devices. With this security, you do not have to fear using public Wi-Fi hotspots since you will always be secured.